Overhead EOT Crane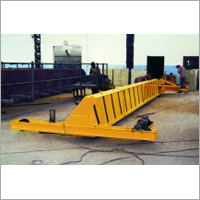 Overhead EOT Crane
Product Description
Standard Features
Design: Compact dimensions, easy to operate and easy to maintain, modular design with direct fitment at Tie beams or any supporting structure.
Structure: Radio graphed butt welded joints ensure defect free safe rigid structure. The material of construction confirms to IS 2062 & the Bridge designed for minimum vibrations.
Motors: Crane uses sturdy cylindrical/conical rotor pole-changing motors with elegant continuous cast aluminum sections, integrated safety brakes insulation class F, IP 54 protection, $4, Crane Duty.
Gear boxes: Precision helical/ spur gear units with case-hardened gears, high-grade surface treatment and permanent oil/grease lubrication
Brakes: Electromagnetic DC Disk brakes featuring automatic braking on power failure (fail safe).
Electrical panel: Modular design, covering a very wide operating range. The systems are designed for ease of installation and maintenance as well as reliable operation, with fuse-less circuitry, ducted wiring and non-screwed terminals. Each drive group is equipped with a motor overload protection device to provide effective protection against inadmissible overloading.
Painting: Every component & part is thoroughly scrubbed & painted with two coats of primer before assembly & two
coats of synthetic enamel after testing.
Technical Specification
Model

S.W.L (M.T)

Span (mtrs.) (C)

Head Room (mm) (C)

Wheel Base (mm)

Hook Approach (mm) E/F

End Clearance (mm) A

Wheel Load per wheel (Approx.)

Weight of Crane kgs ( Approx.)

GSG-1

1.0

8
12
16
20

650
750
800
850

1600

2400

3200

4000

700

700

700

700

200

200

200

200

1000

1200

1400

1775

1700

2500

3250

4700

GSG-2

2.0

8
12
16
20

750
800
850
900

1600

2400

3200

4000

750

750

750

750

200

200

200

200

1600

1850

2000

2400

2000

2900

3800

5200

GSG-3

3.0

8
12
16
20

800
850
900
1100

1600

2400

3200

4000

850

850

850

850

200

200

200

200

2200

2450

2650

3125

2500

3500

4300

6200

GSG-5

5.0

8
12
16
20

800
900
1000
1100

1600

2400

3200

4000

950

950

950

950

250

250

250

250

3400

3725

4000

4450

2900

4200

5300

7100

GSG-7.5

7.5

8
12
16
20

850
1000
1100
1200

1600

2400

3200

4000

1000

1000

1000

1000

250

250

250

250

4850

5200

5650

6100

3600

5100

6700

8500

GSG-10

10.0

8
12
16
20

900
1000
1200
1300

1600

2400

3200

4000

1100

1100

1100

1100

250

250

250

250

6350

6750

7200

7500

4400

6000

7800

9300

GSG-15

15.0

8
12
16
20

1000
1100
1250
1400

1600

2400

3200

4000

1200

1200

1200

1200

250

250

250

250

9500

9850

10300

10800

6200

7600

9600

12000
Contact Us
Khewat No. 873, Khasra No. 178, Kultana Road, Sampla, Rohtak, Haryana, 124501, India
Phone :+918045804262